An Entrepreneurial
Spirit

Gloria-Jean Browne


My entrepreneurial spirit began in the mid 70's at the age of 15, when I started my 1st business while still going to high school. I was making bead jewelry of course, which I sold to family, friends at school, spring fairs, and even through a few clothing boutiques.
Back in the 70's there wasn't any where near as many bead stores or suppliers as there is now (the internet wasn't even thought of then.) The selection of beads and findings were very limited. The only bead shop I could find sold mostly wooden beads and no findings, so I had to make my own from wire.


After I graduated from high school I joined the Canadian Armed Forces where I served for 20 years. I have even been honored with two medals: Canadian Decoration (CD), and the United Nations Peace Keeping (UNEF II).



The picture on the right is me in combat gear during boot camp.
The picture on the left is me riding a camel near the pyramids while serving with the UN in Egypt.


Still creative and interested in crafts, I started my 2nd business in the mid 80's, part-time while continuing to serve with the Canadian Forces.
Country decorating was very big then, so I made country crafts where I exhibited in all kinds of craft shows from 1 day fairs at local schools to 1 week events at major shows. During this time I also sold my crafts to a few local gift shops.
By the time the mid 90's came the market was saturated with country crafts, but I still had a creative urge and my entrepreneurial spirit was ready to expand. So after serving 20 years I took an early retirement from the Canadian Forces and started my 3rd business called "Canadian Home Business Productions", where I designed and authored a series for business guides titled "Crafts is Your Home Based Business."

Shortly after I had finished writing 26 business guides I opened my first retail store called "Where Angels Gather". It was a specialty shop that sold only angels and angel products (which many I made myself of course.)

I don't mean to brag but it was a great store, and I even won three awards - locally, regionally and nationally.






Locally: Aurora Chamber of Commerce
"Best Business Award";




Regionally: York Region In Celebration of Woman
"Small Business Woman of the Year";







Nationally: Canadian Gift and Tableware Association
"Canadian Specialty/Niche Retailer of the Year", for excellence in retailing.



After six years I wanted to move to a smaller city which was 4hrs north, so I sold the business and moved north. (I think in this move I had more boxes of beads, beading supplies and books, and craft supplies than I did of personal effects.)
As I was unpacking and realizing just how many beads and beading supplies I had, I said to myself "Gee Gloria, you have so many beads you could probably open a bead store!." Of course with my entrepreneurial spirit just dying to get active again, I did!














After some market research and preparing my business plan I open my second retail store
"Bead Goddess, Bead Emporium & Gallery."


It was so much fun and my customers were great and eager to learn jewelry making skills. I not only carried 1000's and 1000's different types of beads and beading supplies but I also designed and produced my own bead jewelry kits, held beading workshops (anywhere from 4 to 120 attendees), children birthday parties, home jewelry making parties, and I also carried many of my own and customer's finished jewelry on consignment.


---
After 4 years I wanted to move north, again. But this time to a small community where there is not enough population to support a bead shop. So sadly I had to close my bead store.
Having to close my bead shop was the best thing that ever happened to me because I now work from home and lovin' it!
Many years ago I remember how hard it was to find information on how to start a home based business, how to market and sell my handmade items, how to design and find inspiration. So I decided to create a free online business guide and community for jewelry artists, to provide information, inspiration, encouragement, and exposure.
That's why I started this Beading Design Jewelry website in 2009.
How this website began is a story in itself! See My Website Success Story if you are interested.
I have great articles, tips, and discussions shared by jewelry artists from all over the world.
I welcome you to join the conversation here, and share your jewelry experiences or ask questions on this home jewelry business and design website.
And whenever I publish your content on my site, you always receive exposure and a link for your jewelry business.
For those that are interested in seeing some of my own jewelry pieces I welcome you to check out Gloria's Gallery to see some of my work.
I hope this site has been helpful to you in your journey of designing and selling bead jewelry.

Happy Beading!


Gloria-Jean :)


P.S.
I have started my second website Garden-Art-Projects.com. On my new website you will find creative ideas on how to add beauty, structure and function to your garden.
2016 update:
I have also just started a third website Health-Happiness-and-Longevity.com.  This new website is all about how to live longer, look younger and feel great!  Your guide to staying young.  :)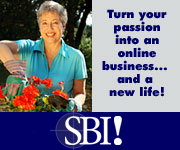 ---

Return to Beading Design Jewelry home page.