SiteSell Shares Lots of Their
Tips & Techniques For FREE
These next 10 reasons I Love SBI! is because SiteSell is willing to share lots of the tips and techniques for free. You do not have to be an SBI! owner or subscriber to benefit from all this great information and tools. So why not use them and take advantage of SBI!'s proven success!


76. FREE Tools for Non SBIers
Alexa Traffic Test
In less than a year my website www.beading-design-jewelry.com (using SBI!) had risen to join the top 1% of all sites on the web. Take the Alexa Traffic Test to find out how your own site ranks (or that of a friend or associate or competitor, perhaps), compared to 100 million others. Use it to compare SBI! results with the "success stories" from any other Web hosting service you might be considering.


Spam Check Report
Now your newsletters can stay out of the "Junk Mail Folder" by using SpamCheck.


Value Exchange
Find high-value, similarly themed sites, and then exchange links to TRULY increase your link popularity, in a way that the engines love.


SiteSell 5 Pillar Affiliate Registration
Do you already have a website and would like to earn $75 for each Site Build It! ("SBI!") yearly subscription and $150-$250 for each SBI!-based SiteSell Services package that you sell through your site as an affiliate? There's no other affiliate program on the planet with the kind of proprietary technology, generous commissions, and OVERdelivering products that SiteSell offers.

And if you are new to affiliate programs, and not sure where to begin, or you have not been successful with other programs despite best efforts, then check out SiteSell's 6th Pillar Program where they share six practical and proven action steps to get you started.

Search It!
How do you unlock the full potential of the Web? It's easy! Just use Search It! A FREE researching tool that converts you into a business power-surfer, ready to help you grow your business.

From brainstorming, competitive research, domain naming, adding new ideas to an existing business, researching keywords and sites to the nth degree, the possibilities are endless!

More than 100 powerful, advanced searches in 20 categories, from brainstorming to monetization. Search It! constantly updates old searches and adds brand new ones, such as the highest-yield searches for excellent information, vital statistic and legal research, image library searches that you can use for free, and a real head-knocking/brainstormer. The ultimate e-commerce searching machine. Go ahead, Try It!






Choose It!
Choose It! is decision making software that takes tough questions and makes decisions quickly and easily. Not only is it free, but it's actually a fun tool to use.
77. Fabulous Must-Have Freebies:  FREE Downloads
Check out these FREE eBooks from Sitesell and see how you can turn your e-Business into success.
I promise you. These are not some cheesy, info-products that show you how to make money overnight.  There's no such thing as "fast cash" and that's not what these eBooks are about.
They are all very well-written tutorials jam-packed with solid, detailed information that will show you how to profit from your website.
Affiliate Marketing Course - Learn how to make money with affiliate marketing. A step-by-step guide.
Make your Net Auctions Sell - How to profit from online auctions.
Net Writing Course - Help for writing for the internet. If you want to sell more, write better. The power is in your words.
Make Your Content Presell - Learn what PREselling means, how to do it, and why this method of communication is so powerful.
Make Your Links WORK! - MYLW! does more than focus your link popularity efforts it also presents the vital bigger picture required for building targeted traffic (now and for years to come) and for building long-term online profits. To download this FREE PDF read this important page about link building and then go to Tip #2 you will find the download button there.
Make Your Knowledge Sell! - A proven system for creating, publishing and marketing your infoproduct, yourself.
Make Your Words Sell! - Teaches you how to be an effective e-pursueder... even if you don't think you can write.
WHAM It! - How to build an e-business as a Work-At-Home-Mom.
Local Business Course - Learn how to market and promote your local business.
Service Sellers - If you sell a service, this book's for you.  Learn how to profit from your service.
Web Master Business Course - How to start a successful web design business.
Make Your Price Sell - How to price your products and services without leaving money on the table.
Make Your Site Sell by Dr. Ken Evoy - The Definitive guide to making money with your website.  If you download one book only, let it be this one. 


78. SiteSell Blog
Don't miss SiteSell's articles on the entire gamut of e-business building topics (from idea-to-income generation and everything in-between), latest business tips, as well as "Ken's Blog."
Take a peek inside the world of SiteSell. They have an absolutely unique perspective about business, and life. In the busy and noisy blogosphere, get ready for some quiet, original, and valuable thinking, not to mention unique insights into SiteSell itself.
In fact, here's an interesting post by Ken Evoy, SiteSell's Founder and Chairman of the Board. Ken really builds a case about whether folks should blog or build a Web site.


79. SiteSell Twitter
SBI! has an unmatched impact upon the lives of SBIers. As a result of the OVERdelivery of product, SBIers are deeply devoted to SiteSell and SBI! And so is each person who works for SiteSell. SiteSell Twitter is the place for everyone in the company to talk publicly about ongoing projects, news, views and activities. Meet the people, all of them, behind SiteSell, everyone who makes SBI! happen (from programmers to support staff to the CEO). You can literally tweet with anyone, everyone, at SiteSell!



80. SiteSell FaceBook
SiteSell Facebook is interactive and all-inclusive, providing tons of ways for 5P affiliates, SBIers and yet-to-be-SBIers to interact through notes, videos, photos, discussions, etc. It's a great place for folks who are interested in SBI! but are still unsure about it - to ask questions and get a feel for this helpful, friendly community.
Take a break, relax, have fun and - most important - meet new people and make new friends at SiteSell Facebook, where we all connect. Not an SBI! owner? Come meet and ask them anything!



81. SiteSell YouTube
SiteSell's YouTube Channel is informative and engaging. It is packed full of SBIer experiences, and some "live in color" presentations. Don't miss the 13-part series, "Building A Successful E-business." There's something for everyone here (just scan the playlists).



82. Proof of Success!
Are you still not sure why I Love SBI! so much? Well, I am not the only one! The following links are well-documented and verifiable proof that Site Build It! delivers profitable businesses.
Case Studies - The people featured here receive no compensation of any kind from SiteSell.com. Their stories are true. They write and update their case studies as their way to share SBI! with you.
Major colleges and universities teach SBI! as a course. They don't teach "Yahoo! Small Biz" nor "small business online" from Microsoft, 1&1, or any other "big-brand name." Instead, after investigating all options, they choose SBI! as the way for their students to not only learn how to do small business online, but to graduate with an actual, working small business.
SBI! Top 1% - SBI! is all about "Profitable RESULTS". No traffic = No profits. SBI! OVERdelivers on both. Here you will find hundreds of successful SBIers all in the Top 1% of over 100 million sites on the web.
SBI2-4U... A Site Written By SBIers For You! Recently launched, over 100 SBIers have already dropped by to recount the content-building, traffic-"viralizing," authority-establishing, and money-earning power of Content 2.0, the FREE module that drives SBI! to entirely new levels of success. Drop by to comment, ask them questions, whatever you need to assure yourself that SBI! is everything it (and I) claims to be, and more.
Media - The media is the toughest audience there is. No one scrutinizes the facts more closely than the media. And yet, SBIers are constantly being "found" by journalists worldwide!
SiteSell Services Case Studies - Here are some more case studies of successful SBI! sites that use SiteSell Services. The case studies here are detailed recountings of individual SiteSell Services experiences, each in their own words, in their own styles.
I Love SBI! Videos - I am not the only one who loves SBI! Would you like to know why so many people love Site Build It!? These SBI! owners explain in their own videos how it changed their lives.
The Local Radio Show Heard Round the World - Listen to this totally unrehearsed local radio show. Why in the world do SBI! owners (from all over the world) stay up until 4 AM to rave? Because the devotion runs both ways. SBI! cares, intensely, about the success of SBI! owners.   
Sample SBI! Sites - Most SBI! sites, just like these sample sites, are created by the actual owner, a regular business person (without HTML, FTP, CGI, database, programming, or Search Engine skills)
Web Professionals, Too - Of course, professional designers and Webmasters are allowed to use SBI!, too. They can and do use SBI! to deliver what their clients really want. Not just a Web site... a successful business.
Compare SBI! - Here you can compare SBI! feature-by-feature and then dollar-by-dollar.


83. Ken Evoy
The tortoise approach symbolizes SBI!'s steady-and-sure approach. It's definitely not GRQ (GetRichQuick) and keeps you from getting distracted by false promises or dead-end tools and strategies that end up costing more money. Experienced users will appreciate avoiding time-wasters that don't help you succeed. Think of it as a simple, direct, hype-free path that leads to success.
SiteSell.com was established by Dr. Ken Evoy in 1997. His series of books have helped hundreds of thousands of entrepreneurs and small businesses. Make Your Content PREsell! and Make Your Words Sell!, formerly books sold by SiteSell, are now free. They are literally the dynamic duo of "Web-writing."
Dr. Evoy realized that the average business person needs more than some information in books, no matter how good. S/he needs both the C T P M process and an all-in-one Web site hosting, building and marketing suite of tools that enables them to execute the process flawlessly. To this day, SBI! is unique.
Ken Evoy provides a rare level of dedication to his customers. He's extremely active in the SBI! forums with over 5000 posts to date. He makes a tremendous personal effort to help people succeed and is highly passionate about helping people build businesses online. Anyone who owns SBI! can benefit from this extraordinary Internet business visionary.





84. All One Price
ALL of the reason I Love SBI! are included with my subscription fee. There are no hidden costs. Based on all that SBI! delivers (and prevents!), a subscription to SBI! should sell for many thousands of dollars per year. I pay less than a tenth of that... USD $299, thats less than $25 a month! I mean, what other business can you possibly think of that costs less than $25 a month in expenses?
SBI! now offers a monthly subscription for only $29 a month. You still get everything a yearly subscription gets but you pay monthly. Although SBI! offers a monthly subscription I recommend purchasing a yearly subscription because you will SAVE close to $50! and you still get the Money Back Guarantee if you are not satisfied with the product. Which brings me to my 85th reason why I Love SBI!

From now until December 25th, SBI! Has a fantastic 2 for 1 Speical!
85. Money Back Guarantee
If you read my Website Success Story you will see that I was skeptical when I was first introduced to SBI! It sounded too good to be true. There was no way that I would get all these tools, web hosting, training, guidance and support for only $299. But it was the Money Back Guarantee that gave me the confidence and peace of mind to know that if it wasn't all it claims to be that I have 90 days to get a full refund.
The main thing is, it's totally risk free. SBI has a full money back guarantee. They're happy for you to try it out and see how you like it. If it's not for you?... No worries.
Without SBI I would not have the success I have with my website. I hope I have provided enough reasons why I Love SBI! So now it's up to you. Take a leap of faith and decide to take the first step toward achieving what ever it is you want.
If you've still got questions, Contact Me I would love to answer anything you have questions about, or, why not speak with a live person. You can get all your questions answered before you purchase. These experts are real SBI! owners who love the product too! Don't leave another question unanswered. Choosing SBI was the best thing I ever did!



Marketing 101 in Action
Invest 30 minutes into your future by sitting back and watching this video tour to understand exactly how Site Build It! can help build the business of your dreams. It explains the "reasoning" behind the SBI! process. This is important as it shares the "benefits" and "logic" for why SBI! works.
---
Why Do I Love SBI!?
Reasons 1 - 17 = Perfect Preparation
Reasons 18 - 27 = SBI! Help Me Build & Host My Website
Reasons 28 - 36 = Simple Block-by-Block SiteBuilding
Reasons 37 - 46 = Traffic-Building System
Reasons 47 - 55 = Trust-Building Tools
Reasons 56 - 63 = Monetization
Reasons 64 - 75 = Guidance & Support
Reasons 76 - 85 = SiteSell Shares Lots of Their Tips & Techniques For FREE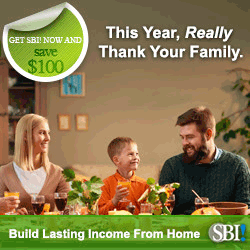 ---

Return to How to Build A Jewelry Website
Return to Home Page